Green Liquid Gold: The Best Olive Oil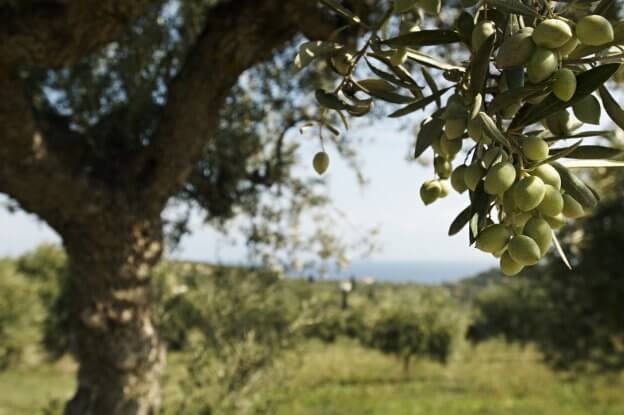 Food and Wine
Green Liquid Gold: The Best Olive Oil
Mon Feb 4
With over 1,000 years of history in Tuscany, the Frescobaldi family is known the world over for fine wine and exquisite olive oil. Originally bankers, they turned to farming after the Renaissance. Today they own 741 acres of olive groves in addition to several wine estates. Their name is synonymous with quality and Tuscan culture. They strive for excellence.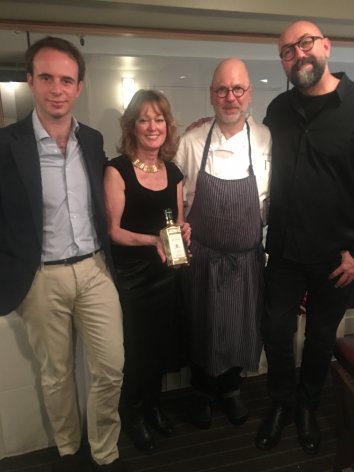 In 1986, a year after a devasting freeze that destroyed 90% of Tuscany's olive trees, the family spearheaded the formation of the Laudemio consortium to encourage member producers to focus on best plots, best agricultural practices, and best production methods. Laudemio, a historical term, refers to the best part of the harvest that was reserved for the feudal lord, or landlord.
Laudemio Frescobaldi Extra Virgin Olive Oil 2018 celebrates its 30th anniversary with custom gold painted bottles, so its signature emerald green color is not visible until it is poured into a saucer or onto a plate. It is exquisitely rich and elegant with delicate flavors and silky texture.
Matteo Frescobaldi, representing the family's 30th generation, is the Brand Manager. Matteo compared Laudemio to wine, noting they both express their origin, or terroir. He and Rolando Beramendi, a talented chef and cookbook author and owner of Manicaretti Italian Food Imports presided over a luncheon prepared by Chef Staffan Terje at Perbacco in San Francisco to showcase the green liquid gold.
Perbacco Ristorante and Bar
First Course
Ribollita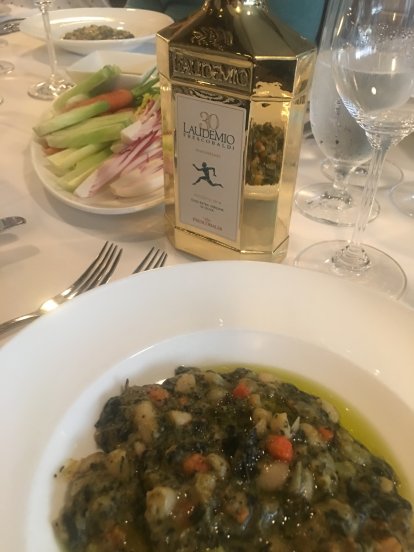 Pinzimonio – seasonal vegetables with olive oil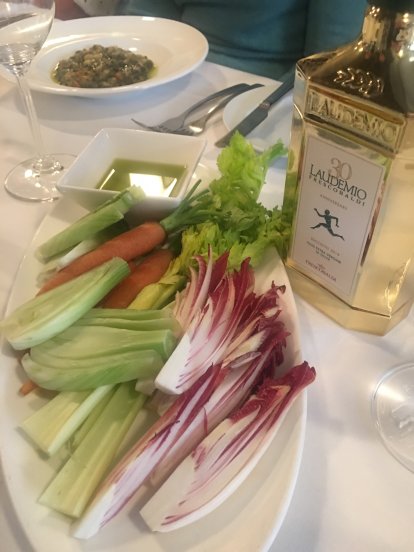 Second Course
Pappardelle – wide pasta ribbons – peposo beef ragu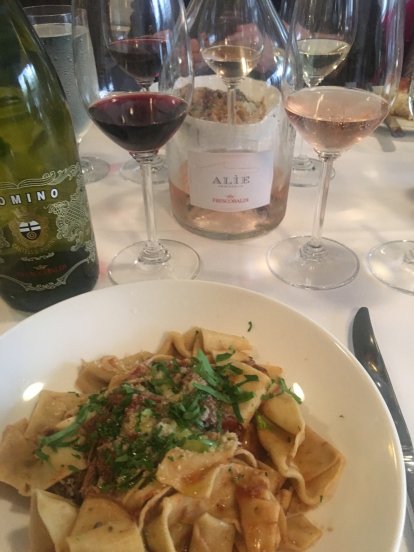 Main Course
Maiale al Latte – milk braised pork shoulder with caramelized fennel
Seared Flatiron Steak Tagliata with arugula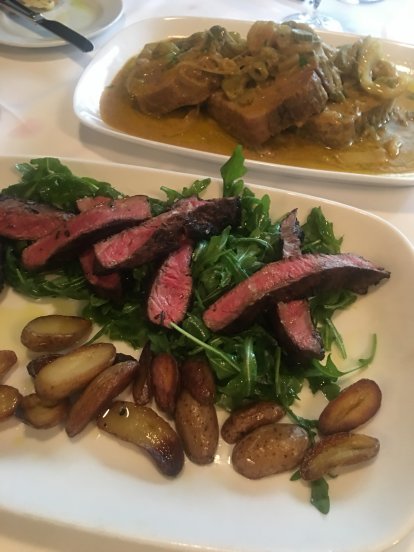 Dessert
Chocolate Gelato with sea salt and olive oil
We were encouraged to drizzle the Laudemio Frescobaldi olive oil over everything, which we did, enjoying the decadence of the gold bottles, and their green gold contents.
Laudemio Frescobaldi Extra Virgin Olive Oil 2018 is available now in limited supply at select Whole Foods Markets and gourmet markets nationwide.
https://primewomen.com/entertainment/food-wine/green-liquid-gold-the-best-olive-oil/
Read our review of this product here:
http://planetgrapewinereview.com/product_review/2018-laudemio-frescobaldi-extra-virgin-olive-oil-toscana/